The power of webcasting
at your fingertips
A powerful self-serve webcasting tool specifically designed for corporate communications. Whether for 100 or 100,000 participants, we successfully support organizations of all sizes, no matter where your speakers and your participants are located in the world.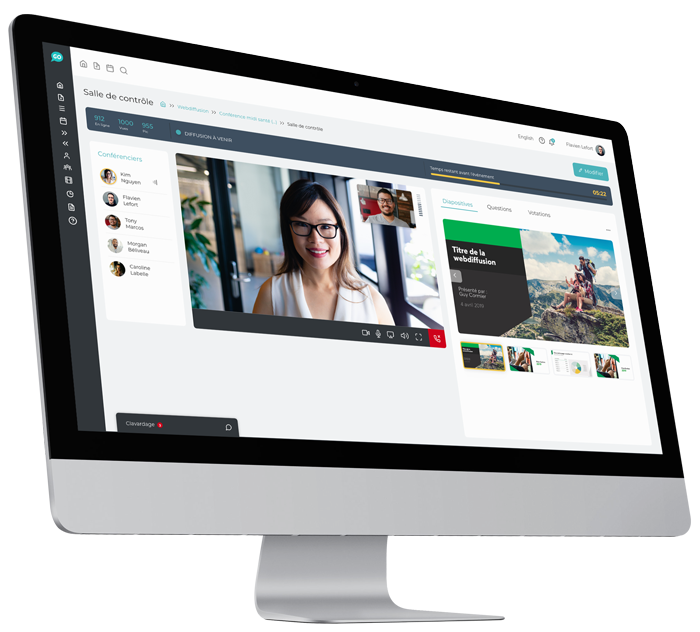 Simple
Nothing to install, nothing to download for the participants, organizers, or speakers. Compatible with your existing communication tools.
Robust
Stable webcasting reaching up to 100,000 participants, no matter the location. Highly reliable hosting guaranteed.
Flexible
Flexible formula to let you organize, configure, secure, and webcast your material independently. Take advantage of bilingual and highly dedicated technical support.
Proud users of the self-service icastGo solution
Ready to webcast in 2 simple steps
Create and configure your event worry free
Webcast your important messages with total autonomy
What our users say about icastGo

"We were looking for a flexible webcasting solution applicable to all of the Desjardins Group. We needed a supplier that could support a high volume. For several years we have found in Digicast a reliable and solid partner with high quality standards, both technically and securely combined with an excellent customer service level. Their solutions allow us to confidently deliver webcasting for our large-scale digital events as well as for our daily communications."
Access is possible with your existing communications tools
Connect to icastGo via any browser that supports WebRTC protocol like Google Chrome, Mozilla Firefox, Opera, Microsoft Edge, Safari and more.
icastGo is an open platform soon to be 100% compatible with Microsoft Teams making it easy to connect.
Using a landline or a cell phone, be part of the action by connecting to icastGo.
Maximize the money you invested in your videoconferencing equipment by using your own hardware to connect to icastGo.
You will soon be able to connect to icastGo using Google Meet!
Connect to an icastGo webcast via Webex.
General features of icastGo
The webcast interface displays two side-by-side frames, one showing the conference and the other the presentation documents, allowing your audience to enjoy a webcast of your message with perfectly synchronized slides.
The safety of your data is paramount! Therefore we offer several levels of security: IP, authorized emails lists, and via your Single Sign On authentication system (SSO).
With webcasting, there are no borders! This is why icastGo is available in French and English with other languages coming soon.
2 distinct areas for the users
icastGo offers a special collaboration area for the speakers and a user-friendly viewing area for participants.
Private co-space for organizers and speakers that includes all the tools and features used to manage and broadcast webcasts, for example: chat box, the possibility of posting a video during live broadcast, camera referrals, statistical data in real-time.
Nothing to install, nothing to download for the organizers, speakers or participants.
Broadcast guaranteed by AWS, one of the most reliable content distribution networks (CDN) in the world.
Interact with your participants using a question box, a voting module and/or online surveys.
CDN clever solution for businesses to resolve network bottleneck issues.
As collaboration tools like Zoom, WebEx, Adobe Connect and GoToMeeting are not always suitable, icastGo was designed by specialists to meet the webcasting needs of businesses.
For organizers and speakers
Secure, private co-space for organizers and speakers.
Collaborate using the live chat and screen sharing functions. These secure functions are reserved exclusively for speakers and organizers.
Live broadcasting is very stressful. Get complete control over your performance with the option of rehearsing with each other and then going live as soon as you're ready.
Sometimes images aren't necessary. Select the type of media you would like to broadcast: audio or video.
Advanced management module
With integrated invitation and registration tools, your audience will be able to participate by simply clicking on a link provided by the platform.
Qualify your webcast visitors by personalizing the access form. Add your choice of information fields and access detailed statistics that include all the fields you have chosen.
Show your colours! Add your logo to your broadcast page as well as the names, titles and brief descriptions of your speakers to give your audience a professional and convivial experience.
Get detailed live statistics that are geo-localized and downloadable.
Not sure how to get the most from icastGo? First time user? Or perhaps you're working on a more elaborate event? Let our experts guide and support you.
Technical support plans tailored to suit your needs: knowledge base, operator assisted webcasting, etc.
A separate area for speakers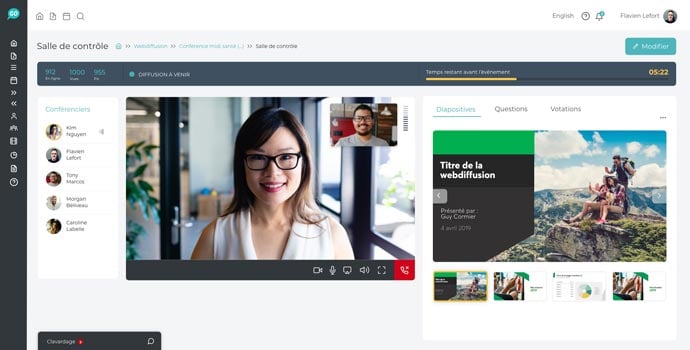 AN EXCLUSIVE AND COLLABORATIVE SPACE
Gather all your speakers in the same online environment, regardless of their location. Connect to icastGo with your existing tools and go live whenever you're ready.
User-friendly participant interface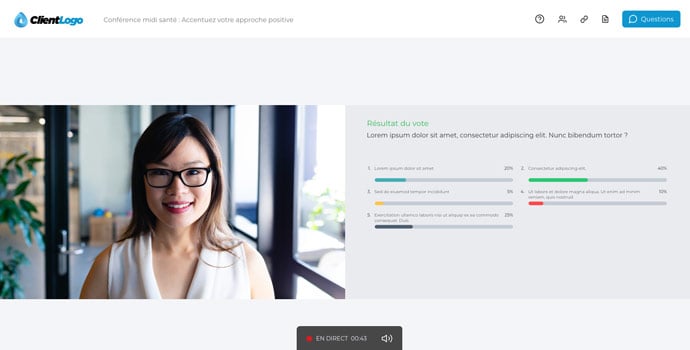 AN ERGONOMIC AND USER-FRIENDLY SPACE
A memorable webcast experience is just a click away thanks to an interface that synchronizes video conferencing with slides. This solution also provides high-performance interaction tools such as: question box, polling and voting – all within the comfort of a secure environment.
About Digicast
Founded in 2006, Digicast is truly the Canadian industry leader in webcasting and corporate communications. Digicast is one of the key world players in web conferencing solutions adapted to business communications.
Our first-rate solutions rely on our continuous investments in research & development of technological tools specifically designed to meet the requirements of our corporate customers, and on a quality turn-key service.
Building on thousands of annual digital events, we are working hard every day to offer you reliable solutions and develop tools and services that always strive to be at the forefront of technology.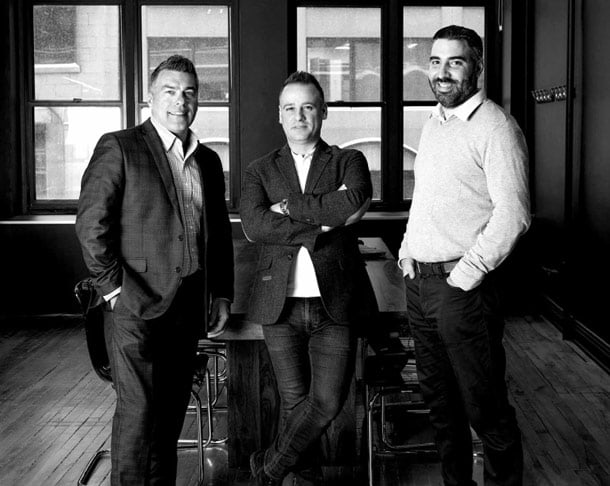 Request your Personalized Demo